January2019 Meetup: Post Mortem
on
February 19th, 2019
at
12:26 pm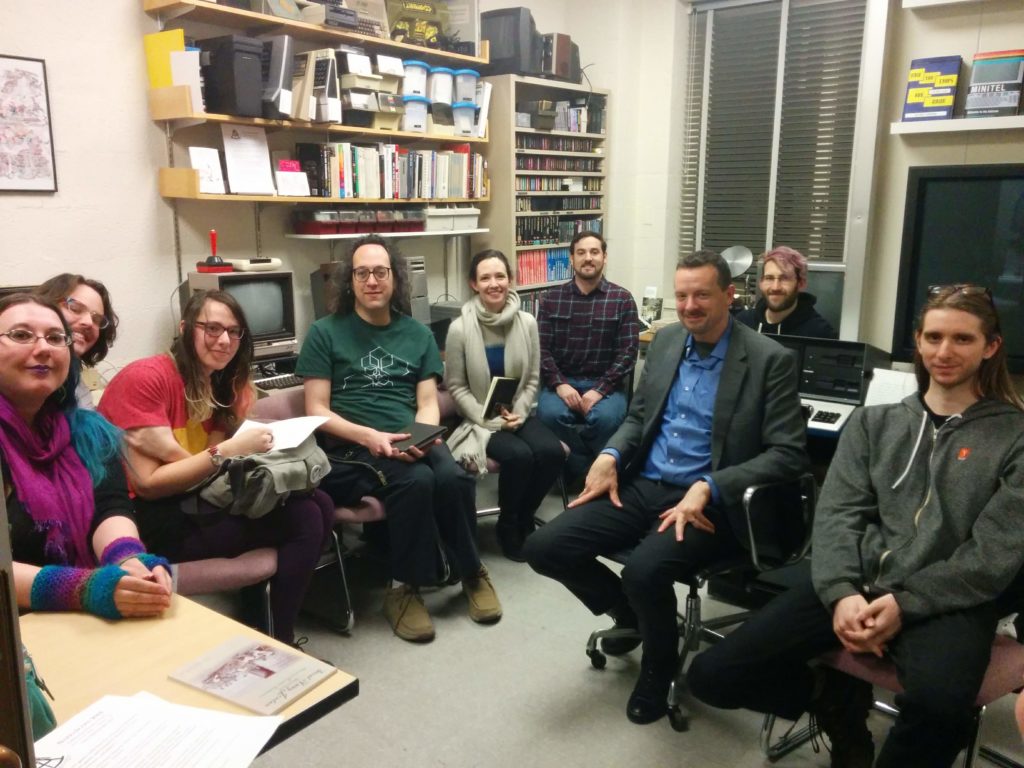 The People's Republic of Interactive Fiction convened on Wednesday, January. 16th. Zarf, adri, heflin, nickm, dan, noah, jake, and anjchang interacted with various feelies and viewed a C64 piece.  Warning: what follows is probably not proper English, but just my log of notes from the meeting to jog people's memories: See more pictures here.
Reality of interactive fiction story f Train by Brenda rpmero
Mystery hunt
Tunnel by sofian audry
Baba is you beta testing by Jake
Zarf Judy Dan Noah nickm Jake anj Cynthia adri dominique Luna
Adri on a panel this Saturday
Dominic Inform 7 on flathub pull request
Nick at demo party, 64 byte configure alphabit written with shifty. X reg for color and frwq Check out his blog
Proposal for narrascope closes in two days
Noah wants to know contacts for event spaces in Berlin
Early February Boston FIG talks, fig learns is more educational
Topics of discussion:
anjchang played minima pico 8 by feneric
Zarf played some games for a IGF festival
Watch me jump, a small Japanese style interface from play to interactive piece. Minimal conversation steering reads like a dynamic play. Good character tension.
Nick's last Spring IF class happened
Tech support themed games discussed
Bandersnatch. Was prototyped in Twine
Sam Borovs Board game
Get lamp choices spin access court
Scumvm now includes a z machine interpreter
Mystery 3 or Myst 4 in ScummVM
Nintendo Wii emulators on ScummVM
Tipped off Robbie Barrat's code AI used somebody else's code, signed by Shirin
Taper #3 Due Feb. 18th: Seeking Minimal Literary Artworks
We have an If Fiction visitor from Berkley Public library, for a workshop in February
Banksy reference to self shedding art
Meanwhile
My secret hideout
Aaron Reed's table top role playing games
Game Feb businesses
Jake idea game about sheep hands-on training be automation
Mother three industrialization
Dwarf Fortress
Origin
Authenticity
anjchang will be giving a Intro to IF workshop at the Berkley public library for the local community on Feb 20.
Also a shout-out to Jmac, who will be speaking for the IFTF on Feb 20
Reminder that I'm gonna give a short talk about @IFTFoundation at @AS220 in downtown Providence tomorrow at 6:30. We'll demo some games starting at 5:30ish, and we'll have some IFTF and @narrascope stickers and stuff for you too. Come on by! https://t.co/oil5MXiT50

— Jason McIntosh (@JmacDotOrg) February 19, 2019
Next PR-IF Meeting is Thursday, February 21, 6:30 pm, MIT room 14N-233. See you there!