July 2019 Meeting Post mortem
on
August 24th, 2019
at
12:23 am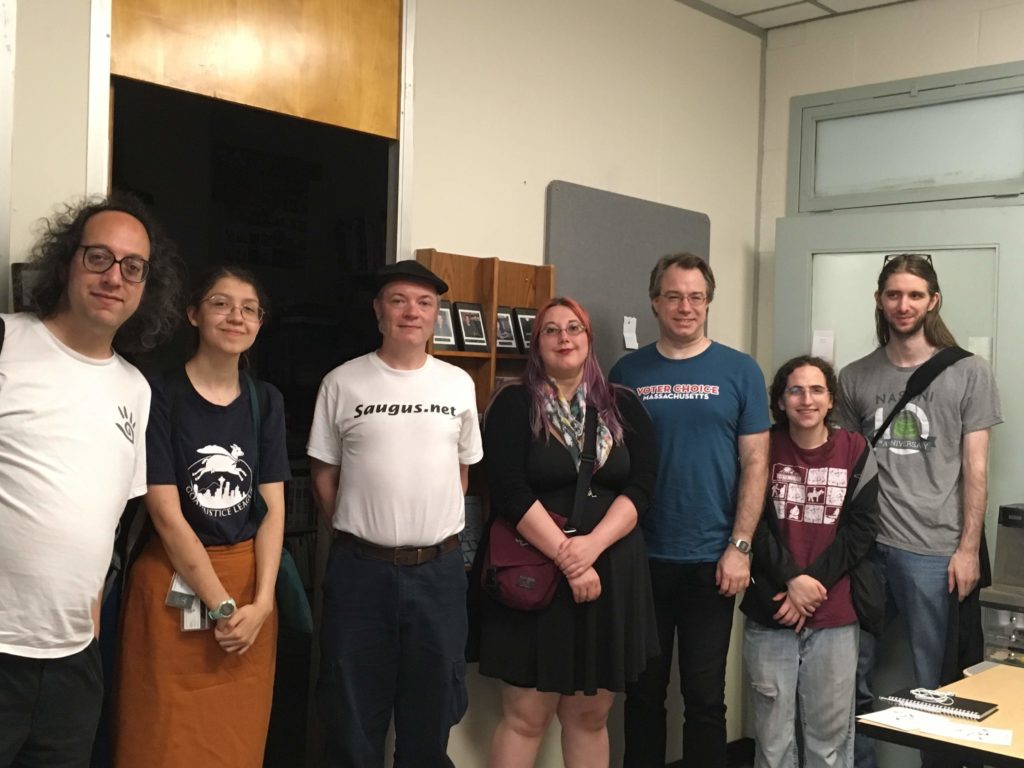 The People's Republic of Interactive Fiction convened on Thursday, July 25, 2019. Feneric, adri, Doug, Zarf, anjchang, Jake, and Yaron welcomed newcomer aria. Friends of Yerone Check out more photos here.
Everyone's moving to Davis
Mysterium in Spokane. Tour of cyan's office. Next adventure game filament coming out next year. 25th anniversary of Myst 
Adri planning for next narrascope
Making games making friends
Feneric Dec.2015 Dr Who's audio cyoa recommended. ""You Are the Doctor and Other Stories". Only "You Are the Doctor" is in CYOA form. The "other stories" are linear. It uses CD tracks as choice destinations." 
Talk on location based gaming working on twine Ironworks area
Minima based mystery
Music profits
Inform 7 open source announcement. Community interest
Release hoped in October
Zarf project discussion
Revisit the Narrascope conference website for updates on media
Jake played Elsinore timeline loop based on Hamlet, interesting solid writing
Adri streaming herself playing adventures fans twitch channel
Angela mentioned YA cyoa and development of baby duck color story
Aria wants to pkay…Patchwork girl how to play? Last version was for Mac osx Sierra
Archive.org has a Mac emulator so you can run old games in a browser
Victor Gijsbers  top 50 poll…on Twitter
Victor's design notes are uploaded and archived
"outer wilds" little price time loop
The lurking horror
Baphl there were two June and July
Escape room
Puzzle hunts
Miscatonic
Introcomp
Ifcomp next
If advent calendar
Cragne manor object interactions 
Boston FIG is coming out in September
Game loop unconference about game Dec in August
Boston gamedev picnic
Women in games invited speaker August on level design
Aria and Yaron have both
Zarf Hadrian lands among other things
Adri social media and games Feb
Fenwick Halloween ghost story competitive, entries worldwide and from all ages and three continents
Ghosts stealing food
Doug wrote 2011 the last day of summer part of four games linked to each other, IF archive volunteer
Jake mentions Twifcomp,and various compilations
Manifest destiny in scheme by Doug
Make 7 day brough like competition
Michael brough roguelikes. Small grid 7 5 4
Hoplite hexagonal 7drl
8696hack
Segmentation fault by Jake
Arcade python games bizarre dependency on fork oh piglet
Aria mentioned canes of code
Kickstarter cootie catcher with story
Fabrication is the air
Two jed berries
The periwinkle
Notes from email:
Following up on Minima, Feneric has released  Anteform. "Same general control scheme as Minima, but there's a bigger focus on story. More people have unique dialog (in Minima there were quite a few "standard" responses, but in Anteform they're all different) and more things are searchable (in Minima there was really only one thing to search for, in Anteform clues can be found all over the place). He tried to make Anteform focus a lot more on the story (or as best as I could within the tiny memory limits). It's not what it at first appears. If you like Anteform and/or Minima, please do rate it. A single five-star rating makes a huge difference in discoverability."
Doug Xyzzy awards update. These are the Best Game nominees:
Alias 'The Magpie' (J. J. Guest)
Bogeyman (Elizabeth Smyth)
Cannery Vale (Hanon Ondricek)
Cragne Manor (Ryan Veeder, Jenni Polodna, et al.)
I.A.G. Alpha (Serhii Mozhaiskyi)
Here are the  2018 XYZZY Award. results.
Brendan Desilets writes "Interactive Fiction Club at the Pollard Memorial Library in Lowell, Massachusetts is now reading "Muggle Studies" by PR-IF member Flourish Klink. In its ten years of operation, the club, which is for middle school and high school students, has also experienced IF games by several other PR-IF stalwarts, including Andrew Plotkin, Jason McIntosh, and Nick Montfort."
The next Boston Interactive Fiction meeting will be Monday, August 26, 6:30 pm, MIT room 14N-233. Â Hope to see you there!