December Meeting Post Mortem
on
January 24th, 2022
at
9:30 am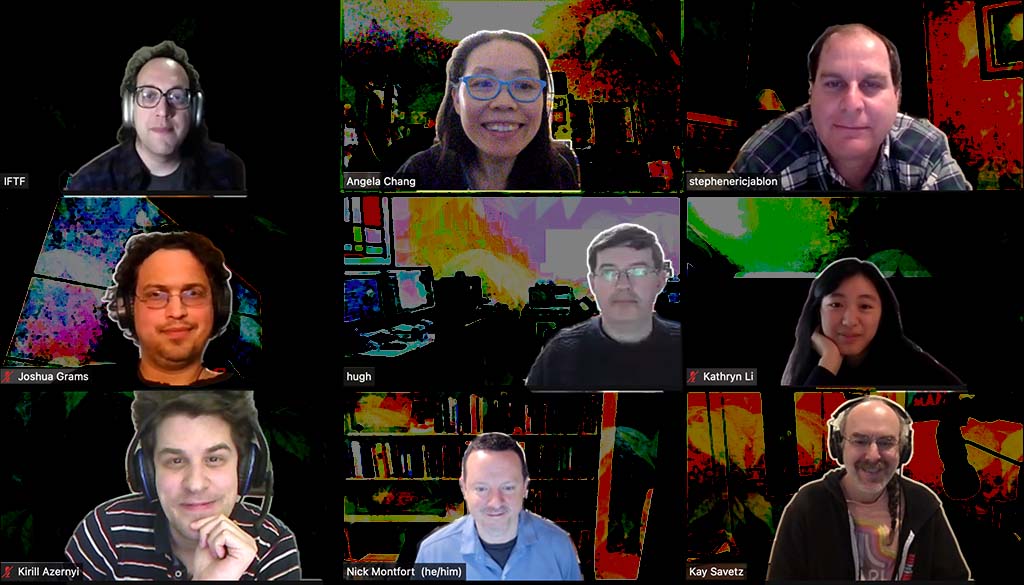 The People's Republic of Interactive Fiction convened on Monday, December 29, 2021 over zoom. Zarf, anjchang, Stephen Eric Jablonski, Josh, Hugh, Kathryn, Kirill Azernyi, NickM, and KaySavetz (Eaten By A Grue) attended. Warning: What follows is probably not proper English, but just my log of notes from the meeting to jog people's memories:
We opened with a Haiku. Angela had attended a haiku comics at the sequential artist workshop. Her Haiku was about temperature:

"Cold in my toes,
Water seeps into my shoe,
Holey-socked Winter"
(implies there's also a hole in my shoes…)
Bashō –Old pond — frogs jumped in — sound of water.
How to say in Japanese? "Raid kills bugs. Dead"
Zarf on the translation of the "Q" into English haiku –
Four short lines,
Iambic pace,
It's like haiku,
For your face
Kirill – logomatics ; What can we do to enhance the input complexity in the IF
the input is could be more intuitive? Player actions are habitual, so as a body system–
As an entity the player represents a not very complex unit.
Wonders if we could make it less habitual.
Make it more complicated and unexpected.
What if we could contribute more input into it?
What if we could give the user options that are not very certain in terms of what we could do?
E.g., give them haikus to choose from, or lines from poems/fiction to choose that are uncertain.
this would contribute more complex idea of a players entity and there is a code in TADS3 (from 2 years ago) that Allows you to add more and more directions in the tags?
Could we introduce new and weird directions to implement, and to interact?
How this would work in terms of constituting a players entity?
Add uncertainty to the feedback.
Traditional IF is a ping-pong with a decisive effect. What if input was broken or weird?
Kathryn shared (an old professor of mine writes amazing nonsense poems for children)
We were discussing Zork from the feedback of the computer. If we did not know what we were expecting, then we reflect on the player. If we say "g north, south" you know you can do that. You don't question the self. This could help us reflect on the uncomfortable nature of being a human or being alive. For instance, how many limbs do I have, even though I know my tools and my intentions.
The reader is pretty much elusive and uncanny and uncomfortable.
Kathryn said reminds her of a game from IF comp, The Library. You go through the plot of different books. Each character expresses something they are looking for by walking through other books and seeing if that game world is useful for a character from another books.
Nick – Amnesia Trope where the character is not cognizant of their own history or identity. Photopia – wings flying above the maze.
Whatever happens with interaction. there has to be a framework where people agree. Dungeons & Dragons Framework where you say a command and it's handled.
Hugh- it comes back to whether in games it is YOU in the story or are you directing someone else. In the early days, it was someone else you were telling them what to do. The characters could refuse what you wanted them to do.
Stephen- Failsafe, it matters that you are different from the character you are giving commands on
Fear- basic commands, the guy's afraid.
Kirill- Indirect control of the character can define a safe place, but we don't have direct control. We are not 100% in charge of what is going on. We instantly retain the safety by means that it is not us. While experiencing uncertainty, having a conduit.
Zarf – Lifeline, directing an astronaut
Kirill, We do need a framework. D&D where the master retains control of the world. If you are not even imposing rules, the world would collapse.
People with dementia try to maintain their identities. When we feel estranged from our tools. We can't take control of our limbs around us. But first we take ourselves for granted.
Angela Those games where you don't know what or where you are and you wake up and have to figure it out.- Eternal Darkness— Amnesia — Tomas Dishes – SOMA
Descending into dementia. people going crazy to undo sections what happened. Like in Eternal Darkness where your game gets deleted. When things didn't work like you thought it would –you thought it was a cheat or your game was messed up.
Zarf- Winners of this year's IF comp, IFCOMP2021 results are up
https://ifcomp.org/comp/2021
Joshua- attended to Nick Martin's IF class final presentation. Play them here https://itch.io/jam/csc-582-fall-2021-showcase/entries. A variety of platforms, phasor things, interactive experiences on Twine and Unity,
Zarf – Last major website is going under IFTF umbrella. Infrastructure wiki ismoving to IFTF server. Now people are talking about updating the ifwiki. Getting more regular schedule updated in games. IFDB only covers games and cultural background stuff of IF world. https://www.ifwiki.org
Talking about ideas for games:
Half bakery. Catspeak would be awesome
Zarf's Craigie Manor Entry where you have to figure out and utter spells.
Memento's instant layer to access memory. The guy was moving memory. Have fun exploring the surroundings through developing your nervous system.
On the one hand we have the world. The interface that is always uncertain, always being dessolved and tested by the uncertainties. It could be models with liquids that we do not know much about. Nethack's identify scroll and unknown potions.
Nethack: The Greatest Game You'll Ever Play https://www.thegreatestgameyouwilleverplay.com
Anj – a modern, more flash-like version is The Impossible Game. I watched a middleschool kid play 100 levels of memorized answers. Every time you fail, you have to start over from level one. He failed many times and was eager to keep going.
Pony Island exploring and interacting with "corruption." Zarf playing Inscryption
(wiki) by same developer (Daniel Mullins)–card game for your soul. The enemy tries to trick you in various places.