March Meeting Post Mortem
on
March 19th, 2021
at
7:30 pm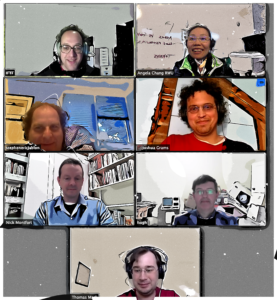 The People's Republic of Interactive Fiction convened on Friday, Mar. 19, 2021
Zarf, , Stephen Eric Jablonski, nickm , Josh Grams, Hugh Steer, anjchang, welcomed Thomas Mack. Warning: What follows is probably not proper English, but just my log of notes from the meeting to jog people's memories:
Started with talking about Chess, Novels that correspond to chess. Alice in Wonderland. Squares of the City by John Bruner. Talked about the BongCloud opening scandal.
Nick read a Beowulf translation, Icelandic saga Maria Headley's Beowulf.
Spring Thing is coming up
A writer's conference called Flights of Foundry,
Zarf doing work on the IF engine
Trope Tank items currently moving to temporary space.
Curveship JS work
Hugh porting new engine to the web
Farming Sims. Verdant Skies, Stardew Valley, Harvest Moon.
Haven – a romance of two characters. Soma is a freaky game, even when you are on "getting injured mode".
NFTs discussion. Exhibit by Casey Reas and Generative Art.
Nick's exhibit Generative Unfoldings opens in 5 days, opening April 1st. Opening on Gather.
Different versions of free. Free puppy "Brings joy but you have to take care of it."
Platforms for online meetings: Video lounge, Jitsi,
Golem literary readings by Nick.
Archery is art, science, history all rolled into one. Mongolian, style double recurve bow. Are there any cats in left in Iceland.