January Meeting Post Mortem
on
February 23rd, 2022
at
9:41 pm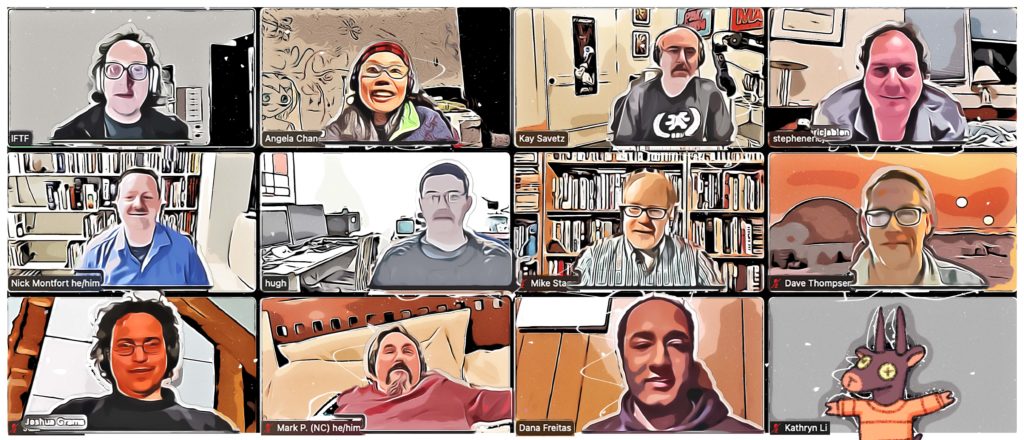 The People's Republic of Interactive Fiction convened on Thursday, January 27, 2022 over zoom. Zarf,  KaySavetz  (Eaten By A Grue), Anjchang,  Stephen Eric Jablonski, NickM, Hugh,  Dave Thompsen, Josh Grams,  Mark Pilgrim (writer of Pitch Dark), Kathryn, welcomed back Mike Stage. Warning: What follows is probably not proper English, but just my log of notes from the meeting to jog people's memories:
After Introductions, there was much Canine Love as participants' furry friends said hi over zoom.
CGI Utah keypots
Stephen "tempest in a teapot"
Spring Thing is happening
Mystery Hunt happened. There was a Zork company clue but no IF-style puzzle this year. Check out this year's Mystery Hunt web site at starrats.org Reminiscing about fun undergrad challenges. Mike Stage talked about Stack Competition at CalTech.
Kay finished Zork Zero. It was mostly fair, big, with a lot to do. Graphic aspect seemed unnecessary. Could have been a text-only adventure. Dave liked the map aspect. They shoehorned it in!
Infocom and Mines of Titan – old infocom/activision stuff. They'll be passing it on to Microsoft soon. Whomever bought Infocom.xyz (tm owner) is planning to make games. Repackaged loadrunner as opensource linux games. Check out the preview video. Valor and Immortals is ending the golden quest trilogy. Infocom games list so far.
How much is Infocom tm (trademark) worth?
Nick likes the Infocom Font
Does anyone at MS even knows they own Infocom? Kathryn actually read something a while ago which speculated about Microsoft bringing infocom back bc of bill gates being an infocom fan.
What if Windows 12 interface was a parser?
What if "Lost Treasures" is 64 bit?
Zarf would like old infocom games back on Gog!
Anj Loves Win95 interface, so if they could bring that back…
Liked Insycryption, but that was too hard.
Anj playing with kids Human Resource machine
7 Billion
Unpacking – wordless simple placing object mechanic
Is there a text-based IF about unpacking?
Tux and Fanny -serialistic glitchy adventure game with MSPaint Style
Academic Pursuits (as Opposed to Regular Pursuits) game unpacking while you're moving into your office by Rugiyah
Quick poll: How many people playing the game and also writing? Or how many are just playing? How many just writing? In IF Comp, average number of votes per game is not enormous. Same as in other genres (dance, writers). She's asking why you do it. Dana merging two different things together?
Dana got copies of MeanWhile. Great recommendation.
Hugh looking into IF for visually impaired people. How do you make them so screen readers will work? Many screen readers are like spyware. Official MS library to do this. For IF, if you're using nonstandard GUI, standard screen reader doesn't work. Having a cursor that lets you ID the text under it. Detours API.
Anj uses Siri Speech to Text by highlighting. Hugh shared NVDA add-on automatic speech output for interactive fiction interpreters.
Zarf Winproc stuff should work. MacOS has screen reading built in.
MarkP can't turn off accessibility to turn off malware.
RenPy is just drawing stuff. There are bunch of visually impaired people on the Intfiction forums to talk to and betatest anything you make.
Check out a group called able gamers. Outside of text game field, accessibility is truly terrrible.
In the Unpacking game, the developers went out of their way to build in accessibility. Mark read off all the features they were lauded for.
Zooming and serial mechanism (not click+drag).
Accessibility APIs can be utilized to present hints and data for accessibility.
Did anyone talk to Mexabel who posted on the list about interviewing an IF creator?
Kathryn – comment on previous topic: for me IF is like…when you need more interactivity than what writing communities typically offer but also more theory than what game dev communities typically offer
Dana interactivity authoring is so much more satisfying.
Josh- There are some blind gamers on Twitter who do some pretty impressive things and also maybe do some accessibility consulting, e.g. https://twitter.com/sightlessKombat
TidByt Poetry text piece – Kay making apps on TidByt, riffing off Nick's ppg256-4. We oohed and ahhed. He also made a river level display and a Conway's game of life display.
Kay is generating stuff on raspberry and pushing it to display over the internet.
Segment Display love – example of Modular font
Stephen – isn't every font a modular font
Stardew Valley -anj's whole family is playing the expanded mod right.
Taper7 Submissions of small (<2Kb) HTML5 digital poems open.